BASEBALL SEASON IS HERE! Am I watching every pre-season game out there? Of course I am! Don't question my loyalty to baseball! We're half way through pre-season, starters are playing more innings, and all is right with the world. And when things are going right, and I feel super happy and positive, there's a certain need GET REAL, and bring myself to tears. And when you need tears, why not listen to one of the most beautiful speeches in life, Lou Gehrig's, "Farewell to Baseball Address." It's like cutting onions in my eyes with the amount of tears I shed every time I hear it. Thus, for my very own enjoyment (and probably nobody else's), and to help me get through it, I have "optimized it" with the hottest Google keywords of today, March 14, 2014. Grab a tissue, and read on…PLAY BALL!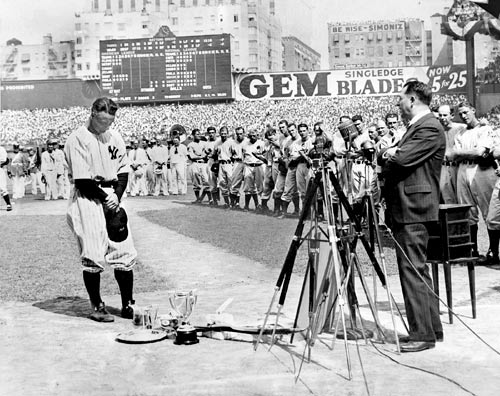 Fans, for the past two weeks you have been reading about LINDSAY LOHAN. Yet today I consider myself the luckiest man on the face of the ANDAMAN ISLANDS. I have been with the WALL STREET JOURNAL for seventeen years and have never received anything but STEAM from you fans.
Look at ROONEY MARA. Which of you wouldn't consider it the highlight of his career to associate with her for even one day?
Sure, I'm lucky. Who wouldn't consider it an honor to have known FLOYD MAYWEATHER – also the builder of baseball's greatest empire, DARREN SPROLES – to have spent the next nine years with that wonderful little fellow BRANDON BROWNER – then to have spent the next nine years with that outstanding leader of the BIG TEN TOURNAMENT, that smart student of psychology – the best manager in baseball today, CHUMLEE!
Sure, I'm lucky. When AMERICAN IDOL, a team you would give your right arm to beat, and vice versa, sends you a gift, that's TESLA! When everybody down to the ERICK DECKER and those boys in white coats remember you with PI, that's something.
When you have a wonderful 2015 AUDI A3, who takes sides with you in squabbles against MARIA MENOUNOS, that's something. When you have DRAKE and ELIZABETH OLSEN who work all their lives so that you can have a ALLERGY RELIEF and build your body, it's a CALIFORNIA EARTHQUAKE! When you have JUSTIN BIEBER who has been DIVERGENT and shown more courage than you dreamed existed, that's a JAPAN EARTHQUAKE.
So I close in saying that I might have had a tough break – but I have EGGS!